Your Referrals HELP VETERANS AND CHILDREN!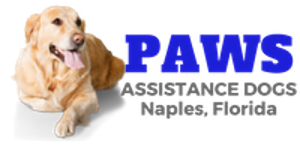 We are on a mission to raise $5,000 for Golden PAWS Assistance Dogs, a 501(c)(3) non-profit charitable organization in NAPLES. PAWS Assistance Dogs provides highly skilled service or assistance dogs to combat wounded Veterans with traumatic brain injuries, post-traumatic stress disorders (PTSD), major limb amputations and to children with life-changing disabilities. PAWS dogs are always placed at no cost to those they serve.
Please pass on our business card or contact information to those you know considering buying or selling a home. You can submit the information on the form on this page and we will contact them promptly. Not only will they benefit from our superior service, you can be assured we are also donating a portion of our commissions to a very worthy cause HELPING VETERANS AND CHILDREN!