The Vineyards in Naples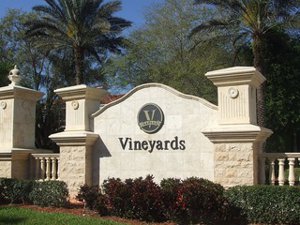 The Vineyards is nestled between Pine Ridge Road on the South and Vanderbilt Beach Road on the North. This community of many varied neighborhoods offers a range of living options from single family to villas to condos.
Vineyards Country Club is a private non-equity golf and country club ideally located in the heart of Naples with memberships available for residents and non-residents alike. The 70,000 square foot clubhouse with resort style amenities provides an exclusive, first class experience in a relaxed setting.
The Vineyards is centrally located with easy access to world-class dining, shopping and entertainment in downtown Naples, The Mercato, Waterside Shops, Village on Venetian Bay, and close to the Gulf of Mexico and Naples' beautiful, award-winning beaches.