Pelican Bay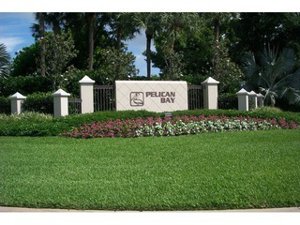 Within Pelican Bay's boundaries there are more than 65 neighborhoods, a 27 hole private golf course, a private beach club, elegant shopping, and Artis-Naples (formerly the Philharmonic Center For The Arts).
Pelican Bay residents enjoy dining under the stars at the private beach pavilions. Transportation to and from the beach pavilions is provided on open-air trams along a winding boardwalk through preserve areas offering spectacular nature views. Both boardwalks to the beach are 1,800 feet long and wind their way through mangrove forests, coastal conservation areas, and over portions of the inner bay system.
The Pelican Bay beach pavilions are located directly on the Gulf of Mexico. They accommodate food service, open and covered deck areas, dressing areas, showers, and restrooms. Beach chairs, cabanas, and umbrellas are also available. The Sand Bar is located at the end of the south boardwalk, while at the end of the north boardwalk is The Sandpiper Beach Club.The casual atmosphere, the sound of the waves gently rolling in and the awesome sunsets make the restaurants inviting and popular.